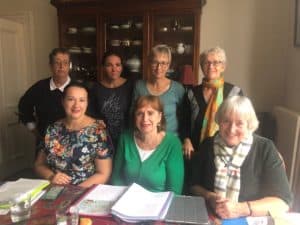 Coordinating Committee elected in "Manastirea Parintilor Carmelitani Desculti"/ Snagov (Rumania) – april 2019.
(sitting, left to right: Inara, Marleen and Sophie
standing, left to right: Gisela, Noemi, Sabine and Vroni)
NOEMI ADORJANI (1977)
is Hungarian, lives in Targu Mures, Romania and comes from the Christian Women's Training Association (ACAF), where she works as a president and trainer. In her daily life she is a marketing specialist, working in online and content marketing.
Noemi would like "to strengthen Andante's voice across Europe and help member organizations to reach as many women as possible by promoting their rights and also their possibilities as Christian women."

VERONIKA (Vroni) PETERHANS (1963)
is a German-speaking Swiss and comes from the Schweizerischer Katholischer Frauenbund (SKF) where she is co-president of the Canton association and member of the SKF executive committee. Vroni is a primary school teacher as well as a farmer and a catechist.
She was elected to the CoCoA in 2013; now Vroni is elected as co-chair (together with Mary McHugh) for internal affairs.
Vroni's motivation for her work for Andante is "to work for the network of Europe's women and to be a link between Andante and SKF" and she sees her work as "using her expertise and strength as part of the team to further the concerns of women".
MARLEEN PETERS (1955)
is Belgian and has been living in the Netherlands for over 40 years. As a representative of the Netwerk Katholieke Vrouwen she is a member of the CoCoA.  Marleen is a natural teacher.  For 20 years she has been teaching detainees in the largest prison in the Netherlands as well as being a teacher at the University of Applied Sciences.  Marleen is very involved in activities in her local parish, where she is also chairman of the local development organization. Her 7 years of work as a volunteer in Rwanda (Africa) is the basis for her motivation.
Global thinking is the motto of Marleen, let's start in Europe!
 GISELA HOEVE (1946)
is Dutch and lives in Zaandam. Gisela is a theologian and has held a number of Church-related positions – among others in the Ecumenical Forum of European Christian Women. She was elected to the CoCoA in 2013 and is  responsible for Finances.
Gisela has stated that her motivation to stand as a candidate was based on the fact that she "likes to work together with women from different cultures/backgrounds" and to take part in work that can help others "in their daily life, in their positions, in their families, in their churches."
INARA UZOLINA (1976)
is Latvian, lives in Riga and comes from Latvijas Kaolu sieviešu apvieniba (LKSA).
SOPHIE RUDGE (1954)
SABINE SLAWIK (1961)
is German, lives in Augsburg and comes from the Catholic German Women's Federation (KDFB), where she is Vice President, responsible for a variety of international issues. She has been a member of the CoCoA since 2016 and has shared the chair with Vroni Peterhans since 2019.
Sabine is a nurse by profession with special experience in surgical and oncological intensive care. In view of the different life situations of women in society and church, especially in Eastern and Western Europe, Sabine is motivated for her engagement with Andante not only by the knowledge of each other, but also by the understanding for each other, the networking among each other and the strengthening of the togetherness on the basis of our Christian values culture.