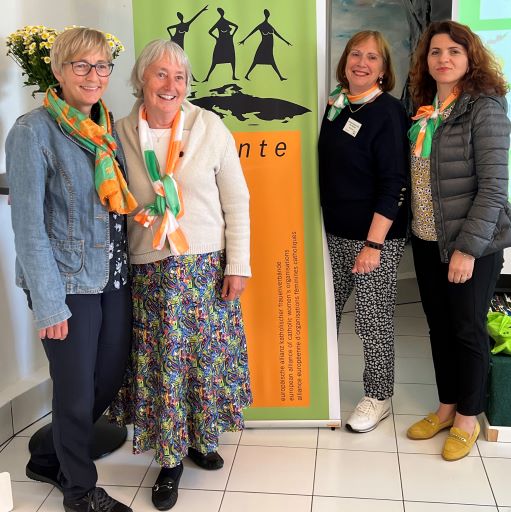 Coordinating committee
Coordinating Committee elected in Lizari, Latvia – June 2022.
Left to right: Co-Presidents Sabine Slawik (KDFB) and Sophie Rudge (SHCJ), Marleen Peters (NKV) – Treasurer, Aferdita Gjoni (Mary Ward Loreto) and Weronika Orkisz Felcisz (LKSA)  is missing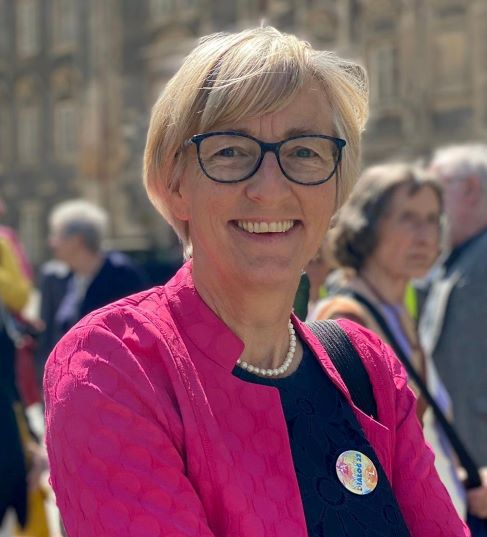 SABINE SLAWIK (1961)
She is German, lives in Augsburg and comes from the Catholic German Women's Federation (KDFB), where she is Vice President, responsible for a variety of international issues. She has been a member of the CoCoA since 2016 and has shared the chair with Vroni Peterhans since 2019.
Sabine is a nurse by profession with special experience in surgical and oncological intensive care. In view of the different life situations of women in society and church, especially in Eastern and Western Europe, Sabine is motivated for her engagement with Andante not only by the knowledge of each other, but also by the understanding for each other, the networking among each other and the strengthening of the togetherness on the basis of our Christian values culture.
SOPHIE RUDGE (1954)
Sophie Rudge is from the U.K. and is currently the international coordinator of the
Associates of the Holy Child Jesus, which is a lay organisation closely associated with the religious congregation of the sisters of the Holy Child Jesus. Associates join the Society in spirit and mission, in prayer and spirituality, to share the gifts that Cornelia Connelly, the foundress, have given us. I represent the Society at Andante as well as at the National Board of Catholic Women in the U.K. I am also the Secretary of the Newman Association, which shares Saint John Henry Newman's desire for an instructed laity. The Newman Association is a member of Pax Romana the  International Catholic Movement for Intellectual and Cultural Affairs.I have recently retired from running my own orthodontic practice, only to become more occupied than ever with childcare to my eight young grandchildren!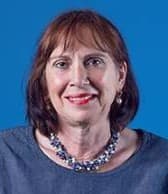 MARLEEN PETERS (1955)
She is Belgian and has been living in the Netherlands for over 40 years. As a representative of the Netwerk Katholieke Vrouwen she is a member of the CoCoA.  Marleen is a natural teacher.  For 20 years she has been teaching detainees in the largest prison in the Netherlands as well as being a teacher at the University of Applied Sciences.  Marleen is very involved in activities in her local parish, where she is also chairman of the local development organization. Her 7 years of work as a volunteer in Rwanda (Africa) is the basis for her motivation.
Global thinking is the motto of Marleen, let's start in Europe!