Just Water – an evening with Christiana Zenner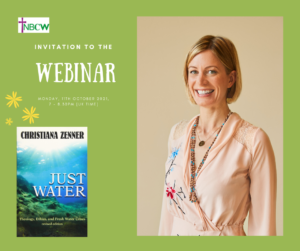 If you care about climate change, if you care about the environment, you will welcome this chance to learn more about Water. In the runup to COP26, (the UN Conference on Climate Change being hosted by the UK in November) join us online with international expert – Professor Chrisitiana Zenner.
Author of Just Water: Theology, Ethics and Global Fresh Water (2018), she has also co-edited two volumes on sustainability and bioethics.
Date: Monday 11th October 2021, 7 – 8.30pm [UK time]  via Zoom
Please register on the NBCW website: www.nbcw.co.uk/events
Or use this link: 
https://www.eventbrite.com/e/just-water-an-evening-with-christiana-zenner-tickets-182506631247
Christiana Zenner is Associate Professor of Theology, Science and Ethics in the Department of Theology at Fordham University, where she is affiliated faculty in Environmental Studies and American Studies. Her research into emerging and established fresh water ethics intersects with ecological theory, religious ecologies, developments in the earth sciences, and the ecological turn in Catholic social teaching.